Due to the Coronavirus (COVID-19), the health and safety of our students, visitors, staff and the community at large is our first priority. Social distancing is a must, as such Microtrain will be delivering courses using a remote live solution for all courses until further notice.
Now is the time for us to come together to support each other and tackle the challenges we are facing. Please let us know what we can do for you during this time; we're always here to assist and help however we can.
We invite you to share your insights, ideas, and strategies with us at requests@microtrain.net.
MicroTrain Career Services Assistance
As a full-service professional training company, MicroTrain Technologies believes that complimentary career and employment development services should be part of the training package. When you take training courses with MicroTrain, you're armed and ready with new knowledge that will give you an edge in the job market. The Career Service staff at MicroTrain is here to help you reach your goals.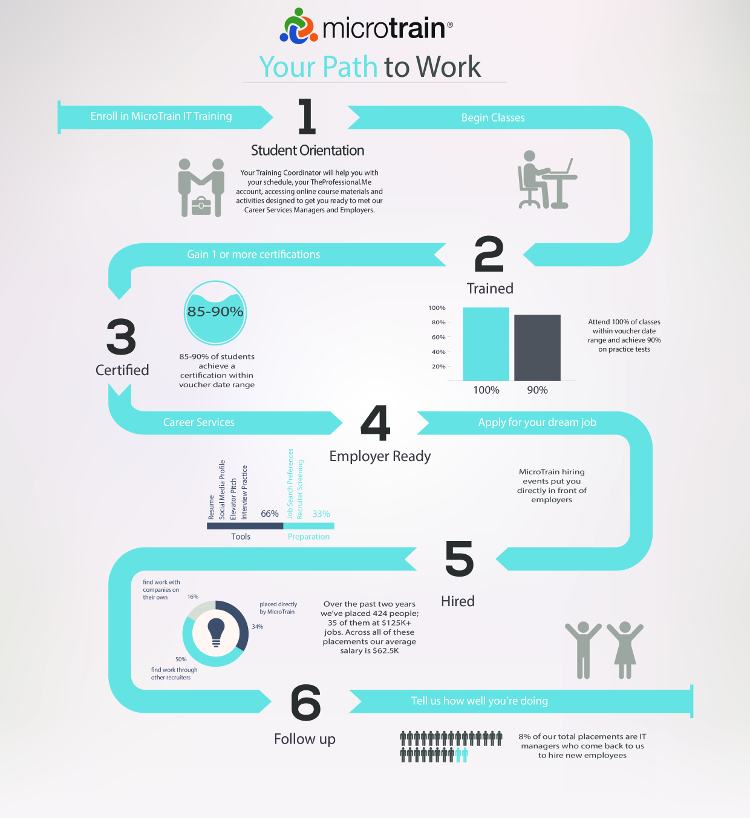 Jennie
Student Employment Success - Project/Process Manager
My Career Services Manager was very friendly and helpful and had excellent follow-up. She seemed to really care how things were going and kept me moving in the right direction. The resources available in job search were great and the visibility that there were jobs out there looking for my skillset was promising. Additionally, the training, as well as having an updated resume stating the Microtrain course work I had taken made me feel more confident and marketable as I looked for employment. It showed that I was dedicated and took project management and process management seriously.
Scott Wilson - Team Bradley
Employer Partner Feedback
Dawn has been a pleasure to work with. She is diligent in her efforts to give MicroTrain's students the best opportunities to connect and network with various companies and players in the job market. The curriculums and certification programs are in line with today's current IT needs. It's good to see that they evolve with what employers are most seeking out there. I would recommend to any employer that hires skilled IT workers that they look into MicroTrain's career services department as a potential source of candidates. The business of hiring can be quite costly, and Dawn and her staff provide a free service to outside companies. This value-add for MicroTrain's students aligns with their mission in both training and job assistance to set up a win/win scenario for all involved.
Robert Graf
MCSA
Microtrain presents the course material in an interesting and concise manner. Microtrain gives the student all the resources necessary to pass the certification exams. Both the Chicago and Lombard facilities were excellent, and the staff goes to any length to accommodate any student changes.
D. Easter
PMP Certification Training, November 2008
Thanks Microtrain for conducting a great PMP course that set me on a successful path to obtain my PMP certification. I have passed the test!
Christopher Fowler
MCSA
Very thorough, good mix of lecture and lab work. Al is great! Keeps classes interesting and supplements required test material with need-to-know items from real world experience.