MicroTrain Career Services Assistance
As a full-service professional training company, MicroTrain Technologies believes that complimentary career and employment development services should be part of the training package. When you take training courses with MicroTrain, you're armed and ready with new knowledge that will give you an edge in the job market. The Career Service staff at MicroTrain is here to help you reach your goals.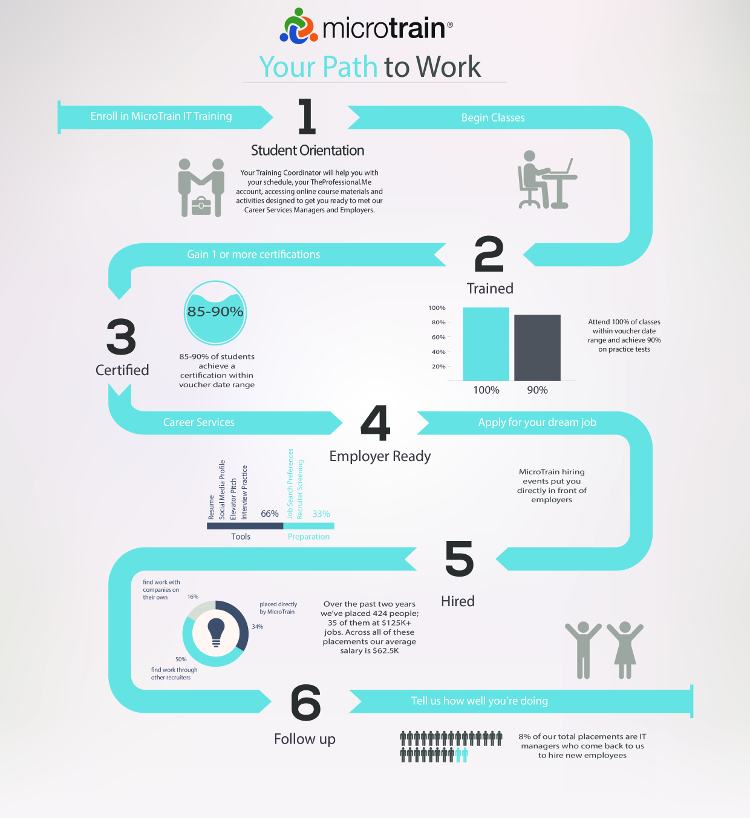 Jean S.
PMP Certification Training, Lombard, 2008
I was laid off for many months and not really getting many callbacks for my resume and no job offers. After I put the letters PMP on it, not only did I see an increase in quantity, but also quality of interviews. I had been spinning my wheels for 5 months, and after the PMP went on, I had 2 job offers in 6 weeks. It really was the "golden ticket"
Mery Castillo
Recently Employed at Comcast
It means a lot to have a relationship with my Career Service Manger, and Elliott Esparza has been great to work with. We went over my resume, completed mock interviews, he kept me informed about positions that fit my skill set, gave me motivational advice...what else can I say, he has been great! I wouldn't have been able to get this job without his help! Working with Elliot definitely helped to open up more job opportunities and also gave me a fresh perspective on how I can improve my interviewing skills while I still was looking for work. If you want the best technical training, MicroTrain is definitely the school to attend. They have so much to offer their students: career services, resume workshops, hiring events, knowledgeable instructors, mock interviewing - their critical path tool is also an excellent resource. MicroTrain staff, instructors, and career services definitely go out of their way to ensure the success of their students.
D. Easter
PMP Certification Training, November 2008
Thanks Microtrain for conducting a great PMP course that set me on a successful path to obtain my PMP certification. I have passed the test!
David
A Cisco Success Story
I attended a resume writing seminar & conducted mock phone interviews with a Microtrain career counselor. These two activities gave me a leg up on distinguishing myself from all the other people looking for work. Since the career counselor's at Microtrain had a track record of getting people hired, their insight and positive past experiences helped me tremendously in getting hired with a Cisco Voice Systems Integrator in the Chicago area. I was hired as a Cisco Voice Tech Engineer with a starting salary of $65,000 / year with a Cisco voice systems reseller located in the Chicagoland area. Microtrain was very instramental in making this a reality. From expediting my WIA grant, to providing excellent hands-on training from knowledgable instructors I was able to achieve becoming certified with my CCNP. Microtrain's career services was the final catalyst in connecting me with this company by communicating with them on my behalf and with me in setting up the interview. One week later and I was hired. No joke. Thanks Microtrain!
Christopher Fowler
MCSA
Very thorough, good mix of lecture and lab work. Al is great! Keeps classes interesting and supplements required test material with need-to-know items from real world experience.