MicroTrain Career Services Assistance
As a full-service professional training company, MicroTrain Technologies believes that complimentary career and employment development services should be part of the training package. When you take training courses with MicroTrain, you're armed and ready with new knowledge that will give you an edge in the job market. The Career Service staff at MicroTrain is here to help you reach your goals.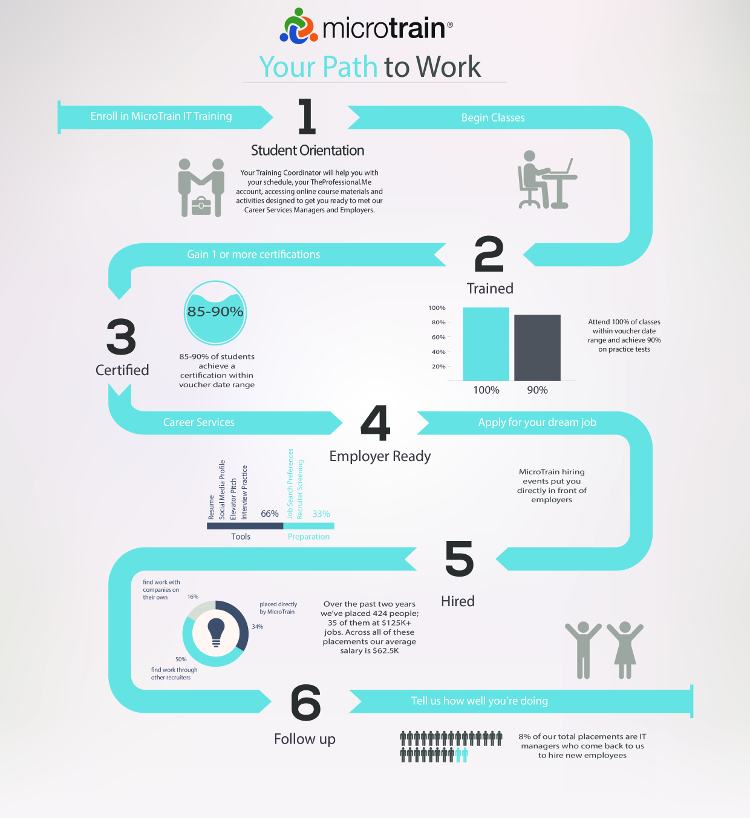 Karine Bucci
Project Management
Great class, loved the interaction and team-building exercises. Plenty of materials and learning tools supplied. Although it was a full week's class, never boring. Donna [Russell] was awesome and gave many supporting examples for better understanding.
D. Easter
PMP Certification Training, November 2008
Thanks Microtrain for conducting a great PMP course that set me on a successful path to obtain my PMP certification. I have passed the test!
Christopher Fowler
MCSA
Very thorough, good mix of lecture and lab work. Al is great! Keeps classes interesting and supplements required test material with need-to-know items from real world experience.
Mery Castillo
Recently Employed at Comcast
It means a lot to have a relationship with my Career Service Manger, and Elliott Esparza has been great to work with. We went over my resume, completed mock interviews, he kept me informed about positions that fit my skill set, gave me motivational advice...what else can I say, he has been great! I wouldn't have been able to get this job without his help! Working with Elliot definitely helped to open up more job opportunities and also gave me a fresh perspective on how I can improve my interviewing skills while I still was looking for work. If you want the best technical training, MicroTrain is definitely the school to attend. They have so much to offer their students: career services, resume workshops, hiring events, knowledgeable instructors, mock interviewing - their critical path tool is also an excellent resource. MicroTrain staff, instructors, and career services definitely go out of their way to ensure the success of their students.
Kaycee Ekufu
MCSA
The instructor [Al Khalfan] was very knowledgeable in the field. He presented the materials and concepts with a professional touch. He also frequently adds humor to his teachings, which made it easier for me to understand. The support staff was all nice, gentle, caring, and very helpful. The materials, rooms and amenities were excellent and exceeded expected standards.