Chicago area career training
ITIL® 2011 Foundation
Summary
* Pricing and Logistics are subject to change without notice.
The ITIL Foundation is an entry-level qualification that is beneficial to anyone looking to expand their technical knowledge, especially those looking to offer IT service management skills. Individuals in IT management positions with ITIL® Foundation certifications earn salaries ranging from $60K-$120K according to PayScale.com. IT training is in high demand, and ITIL® pairs well with many other MicroTrain programs.
MicroTrain offers ITIL certified instructors, in-classroom training, and supplemental materials in the form of online videos and practice tests for post-class and pre-exam review. The exam is given on the last day of class and is covered by our Exam Pass Guarantee.
Who benefits from ITIL® training?
Anyone seeking a basic understanding of the ITIL® framework
Anyone looking to stand out to employers and recruiters
Anyone seeking professional development, recognition, or promotion
Anyone who wishes to stay competitive in the rapidly changing technology industry
About This Course
Microtrain offers a 3-day course to prepare for the ITIL® Foundation certification exam. The Foundation Certificate in IT Service Management demonstrates an understanding of the key terms and concepts for the ten core IT Service Management disciplines. This course outlines the processes of Service Support and Service Delivery, plus the Service Desk function and Security Management within the context of a business-focused IT Service Management approach.
Course Objectives
Master the definition, concept, and terminology of service management
Understand the ITIL® service lifecycle, including process integration, scope and business value for each phase
Understand how the service management processes contribute to the ITIL® service lifecycle
Explain the role, objectives and organizational structures of the service desk function, and state the role and objectives of the three other functions
Understand how service automation assists with expediting service management processes​
WIOA Approved Training Course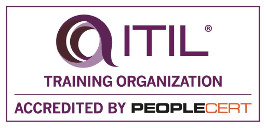 ITIL® is a registered trademark of AXELOS Limited.
Exam Details
ITIL® Exam
The Logistics of Your Exam
ITIL certification exam is given on the last day of class at MicroTrain facility

Create a PeopleCert Account and register your exam
| | |
| --- | --- |
| Exam Code | ITIL® |
| Number of Questions | 40 |
| Passing Score | 26 out of 40, 65% |
| Types of Questions | Multiple choice |
| Length of Test | 60 minutes |
| Exam Results | Provided immediately |
Course Schedule
Chicago
200 W Adams Suite 410 Chicago, IL 60606
03/08/2017 - 03/10/201709:00 am - 05:00 pm
03/25/2017 - 04/08/201709:00 am - 05:00 pm
04/12/2017 - 04/14/201709:00 am - 05:00 pm
05/17/2017 - 05/19/201709:00 am - 05:00 pm
07/15/2017 - 07/29/201709:00 am - 05:00 pm
10/21/2017 - 11/04/201709:00 am - 05:00 pm
Lombard
720 E Butterfield Rd Suite 100 Lombard, IL 60148
03/01/2017 - 03/03/201709:00 am - 05:00 pm
04/05/2017 - 04/07/201709:00 am - 05:00 pm
05/10/2017 - 05/12/201709:00 am - 05:00 pm
06/03/2017 - 06/17/201709:00 am - 05:00 pm
06/21/2017 - 06/23/201709:00 am - 05:00 pm
09/09/2017 - 09/23/201709:00 am - 05:00 pm
---
Exam Pass Guarantee
At Microtrain we are committed to your success!
Let us show you the return you get from great tech training. We will personally guarantee that if you take our class and follow our program you will be successfully certified!
Learn More
---